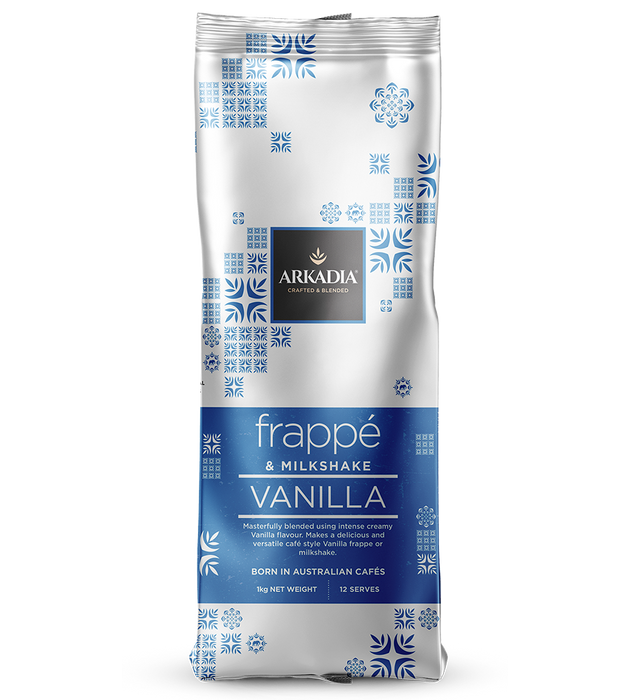 Arkadia Vanilla Frappe 1kg
Original price
$0.00 AUD
-
Original price
$0.00 AUD
Arkadia's
Vanilla Frappe Powder
is your answer to a classically tasting cafe-quality beverage. Masterfully blended using intense creamy vanilla, expect nothing less than pure indulgence, richness and decadence from this
vanilla frappe powder
. Arkadia have been producing best-in-class cafe beverages for many years, and this product is no different. Suitable for milkshakes, thickshakes, frappes or however you else please.


Vanilla Frappe Powder Profile
Flavour - Vanilla
Shelf Life - 18 Months
*100% Australian Made product


Recipe - Vanilla Coffee Frappe 

1 Fountain Glass Ice Cubes
3/4 Cup Cold Milk
1/3 Cup Arkadia Vanilla Frappe Powder
2 shots (60mls) Primo Certified Organic Coffee

Method
Fill your glass with ice cubes Pour
3/4 cup of milk into glass Pour into blender
Add 1/3 cup Arkadia Vanilla Frappe
Add 2 shots of fresh Primo Organic coffee
Blend for about 30 seconds
Pour into fountain glass
Enjoy!