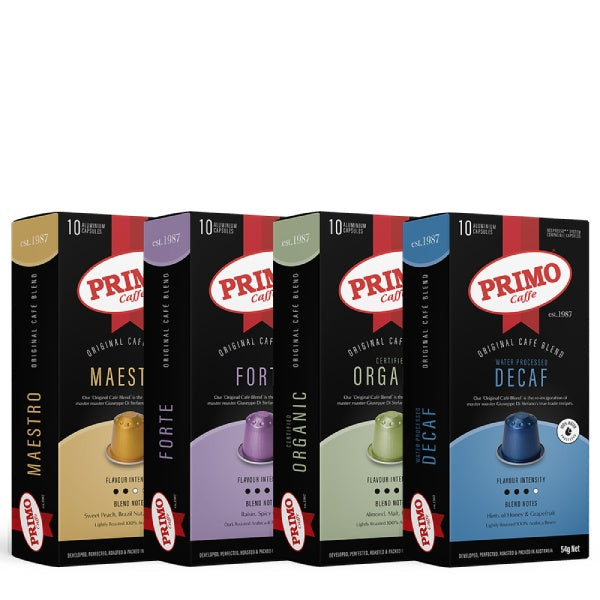 PRIMO VARIETY 4x10 PACK
Original price
$15.20 AUD
-
Original price
$15.20 AUD
We offer a variety of high-quality coffee pods that are sure to please even the most discerning coffee lover.

Our Maestro Coffee Pods are perfect for those who appreciate a bold, rich flavour. Our Forte Dark Roast Coffee Pods are ideal for those who prefer a darker, more intense coffee experience. And our Certified Organic Coffee Pods are perfect for those who want to enjoy all the flavour of our coffee without any of the guilt. Our Decaf Coffee Pods for those times when you want to enjoy the flavor of coffee without the caffeine kick.
So whatever your preference, we've got you covered. So go ahead and explore the world of Primo Capsules today!
Maestro Coffee Pods Profile
Strength - 2/4
Price/Pod - $0.42
Contents - 10 Compatible Pods
Type - 100% Arabica
Forte Dark Roast Coffee Pods Profile
Strength - 4/4
Price/Pod - $0.42
Contents - 10 Compatible Pods
Type - Arabica & Robusta
Certified Organic Coffee Pods Profile
Strength - 3/4
Price/Pod - $0.42
Contents - 10 Compatible Pods
Type - 100% Arabica Coffee Beans and Australian Certified Organic
Decaf Coffee Pods Profile
Strength - 3/4
Price/Pod - $0.42
Contents - 10 Compatible Pods
Type - 100% Arabica Water Processed Decaf